A social media agency is some of the top businesses getting set up and ready to serve their clients in 2020. Social media agency are a kind of digital marketing agency who are setting up and managing social media engagement and social media marketing for many different clients. In this post, we will address what digital marketing agencies do — precisely what resources they should plan and provide you with a detailed overview of each of them.
What are the marketing agencies?
Marketing agencies are also known as marketing firms or specialized agencies that help businesses to build up brand value most effectively and affordably possible. A marketing agency has a team of experts having several experiences in the field of digital marketing and social media marketing and help companies bringing the best out of any business entity or a company.
Businesses should tap into the potential of social media to reach the right audience. A strong social media presence creates an excellent possibility for companies working in digital marketing, Real Estate Brokerages, Dentists, Accountants, Public relation (PR)and communications etc. Let us first discuss social media marketing services delivered by social media marketers across the globe.
Profile creation and branding
A marketing agency for social media can help you get started with social media advertising by creating profile and accounts on top social media platforms. If you avail the services from top social media agencies, then they make sure that your social profiles work for your brand, are search engine-friendly and even have some scheduled content to get you started in the first few days.
Influencer outreach
Influencer marketing is a part of social media adverting that uses endorsements and product mentions from influencers. Social media influencers are individuals with extensive and dedicated followers on social media and established credibility in a specific niche. Top social media agencies will identify influencers who can endorse your brand or online to help you advertise your product or service on digital platforms. They use tools like Klout and Buzzsumo to identify them.
Top social media agencies give regular updates to the clients about your product or services. The analytics report provided by social media agency gives an idea of everything from the performance of the profiles to the demographic analysis of the audience. If you hire a full service digital marketing agency then they can help you in advertising your services and products through other means like search engine marketing, pay per click ads etc.
Education and consulting
Social media agency deliver services that can help you avoid using corporate jargon and use a more conversational approach to interact with customers. Marketing agencies for social media can assist with creating a social media policy, empowering employees to use social media, and build a social media team.
Competitor analysis
Apart from analyzing your performance, a social media agency has to check what your competitors are upto. They Analyze your competitor's social profiles to gauge their performance. They keep an eye on your audiences that are engaging with their content, which social media advertising campaigns were successful, and decide their publishing schedule.
A social media agency will give clients a complete overview of how they are going to execute a strategy suited for your business. Suppose you choose a digital marketing agency for availing social media advertising services. In that case, they also offer services like graphic design, video production, public relations management and search engine marketing services to support your media advertising efforts.
Decide the channels to target.
The social media agency you hire, decides the platform to target for your media advertising. For example,- if you are a B2B company delivering IT infrastructure management solutions, you do not need a presence on Instagram. Likewise, if you are a retail store selling cosmetics for women, you need a strong presence on Instagram.
Video Advertising
Combined with growing attention to digital content, video advertising is beneficial for both B2B and B2C industries. The social media agency will provide you with various choices for video production. Agencies can, for example, create personalized text ads, re-target Facebook or YouTube videos, automate videos for different channels, produce pre-roll or mid-roll, etc.
Pay per click services
Hire a social media agency for paid social media advertising campaigns. You will get unique advantages as compared to traditional pay per click (PPC) marketing methods on Google. The paid social media marketing services will allow you to leverage the most cost-effective and targeted form of advertising for your business using paid marketing features of social media.
Mobile Marketing
More than 50% of smartphone searches result in purchases. That percentage is also higher if the search applies to a particular company: 78% of the smartphone locations end in retail buying, and search words often show a clear desire to buy.
In smartphone ads, there is a range of choices for companies. Your social media agency works on aspects like social YouTube advertising, in-app advertisements, and smartphone app download promotions, etc.
Dashboard to follow influencers, competitors and customers
Social media marketing agency set up a social media dashboard for your business to save your time and effort. The panel can help you track your competitors, customers, and market trends from different social media profiles at one place.
Content strategy
Your social media profiles influence the content of your search engine results and are often amongst the top results in search engine listings for brand names. There are several ways to post creative and useful content for social media marketing that includes visual campaigns, contests, and blogging relevant and fun content. A social media marketing company try different things, to see what drives referral traffic and public relation using analytics tools to increase ROI through social media advertising.
Conversion Rate Optimization
Conversion rate optimization is a procedure to increase the percentage of visitors to a website that converts into customers. It is also known as CRO. In this area, social media marketing organization's resources may include route mapping, setting the CRO targets, the commitment of translating metrics or collecting data from visitors to the website.
Sendible

The Sendible Framework put together all the social media profiles into a single portal which is the best way for the brands to adopt a successful marketing plan. The social network automation capabilities of Sendible help users promote the cycle of guiding communications, creating and facilitating social media conversations. Brands and companies alike are keen on the single focus inbox, which saves time by consolidating the most relevant communications from various outlets. Social media agency can bring useful and exciting experiences with beautiful posts on social media to help your business grow.
Features:
Social media marketing and monitoring, reporting, analytics, campaigns and engagement
Platform Performance and Reliability
Publishing and Scheduling Automation
Monitoring social media advertising campaigns
Keyword Setup feature
Pricing:
Free Trial for a free 14-day trial
Solopreneurs for $29 /month or $24/ month billed yearly
For startup agencies for $99 /month or $84/ month billed yearly
For growing agencies for $199 / month or $169/ month billed yearly
For large teams for $299 / month or $254/ month billed yearly
SocialBee provides resources, preparation, and teams for social media marketing management to help you create more leads with little effort. The platform lets users access all social media marketing profiles from a single dashboard. The platform is widely used by a social media agency to boost conversions.
Features:
Social Management
Social Campaigns
Social Sharing
Social Analytics
Social Engagement
Manage pay per click Ads
Content Management
Content Calendar
Content Library
Content Curation
Collaboration
Shared Inbox
Approval Workflows
Users and Permissions
Pricing:
Pro25 for $79/ month
Pro50 for $149/ month
Pro150 for $379/ month
NapoleonCat
NapoleonCat is a managed social media marketing tool and virtual customer service. The platform helps agencies, advertisers, and businesses to:
Manage rising platforms in social media
Consumer care management
Evaluate the performance of advertising campaigns
Market tracking and benchmarking work in the departments
Automated methods of monitoring
Currently, NapoleonCat connects with social media marketing platforms like Whatsapp, Twitter, Facebook, LinkedIn, Instagram, Pinterest, and YouTube.
Features:
Social Media Monitoring
Social Measurement
Social Reporting
Social Listening
Social Management
Social Analytics
Social Sharing
Social Campaigns
Social Engagement
Reports & Dashboards
Competitor Analysis
Follower Analysis
Content Engagement Analysis
Get customized reports
Report Exporting
Platform
User, Role, and Access Management
Scalability
Performance and Reliability
Pricing:
Free plan
2-week trial
Standard for $21 billed annually, three profiles, one user
Pro for $42 billed annually, three profiles, one user
Sociamonials
Sociamonials is a tool that tracks and accelerates the selling funnel that is important for B2B content marketers and social media marketing company. Sociamonials postal scheduler lets you plan the transfer of your customers, and you can automatically repost your evergreen content. The tool is ideal for SMBs and large companies as well as advertising, marketing services and public relations agencies in Washington DC.
Key features:
Conversion Tracking
Keyword Filtering
Multi-Account Management
Advertising campaign Management
Lead Management
Channel Management
Multi-campaign Management
Content Management and collaboration services
Automated Publishing
Customer Engagement
Multi-Account Management
Reporting/Analytics
Pricing:
Free
Pro for $19/month
Business for$149/month
Enterprise for $399/month
Publer
Publer is a cyber superhero, enabling the updates for media marketing platforms such as Facebook, Instagram, Twitter, LinkedIn, Pinterest, and Google My Business to collaborate, designed, and tested. Aside from simple manual preparation, Publer can automate your posts to you automatically, depending on a posting schedule that you can predetermine or recycle your perennial material. Publer will automatically add your logo to any social media visual and video you share and add your signature to each message.
Features:
Management of social media campaigns, ads, sharing, analytics and engagement
Content management, library and content curation
Get shared inbox approval Workflows
Manage users and permissions
Pricing:
Free
ARGENTUM (silver) for $10/ month
AURUM (gold) for $20 / month
ContentStudio
ContentStudio helps you to explore relevant content filtered by social posts, media styles, and virality. Pick posts from your theme feed individually or start an automated program with your own rules to automatically publish the contents on your social platforms.
Features:
Social Media Monitoring
Social Management
Social Analytics
Social Sharing
Social Campaigns
Social Engagement
Manage pay per click Ads
Drag & Drop Scheduling
Content Management
Digital content management
Pricing:
Pro plan for$49 / month
Small plan for $99.00 / month
Medium plan for $199.00 / month
Large plan for $299.00 / month
Loomly
Loomly is the Brand Performance Network, which lets marketing professionals control all facets of their social media communication, including:
Fuel your post-ideas with storytelling
Use post-optimization guidance to polish the content
Test the post mockups and clearance workflows client notifications
Target & sponsoring (social marketing admin arriving in the short term) meet your market
Participate in connections with friends
Test your Advanced Analytics results
Loomly comes as a web portal for native smartphone iOS & Android apps
Features:
Social Management
Social media advertising campaigns
Social Sharing
Manage pay per click ads
Social Engagement
Social Analytics
Brand Safety
Content Management
Content Library
Content Calendar
Content Curation
Collaboration
Shared Inbox
Approval Workflows
Users and Permissions
Pricing:
Base plan for $34 / month, 2 Users, 10 Accounts
Standard plan for $76 / month, 6 Users, 20 Accounts
Advanced plan for $159 / month, 16 Users, 35 Accounts
Premium plan for $332 / month, 26 Users, 50 Accounts
Enterprise plan for Contact, 27+ Users, 51+ Accounts
Plannable
Planable provides the ability for businesses and organizations, in a specific and cohesive atmosphere which is more like social media platforms like Facebook, Twitter, Instagram, and LinkedIn, to develop a plan, debate, schedule, and prepare social media content. This approach is designed to maximize user experience and to strengthen the content marketing efforts.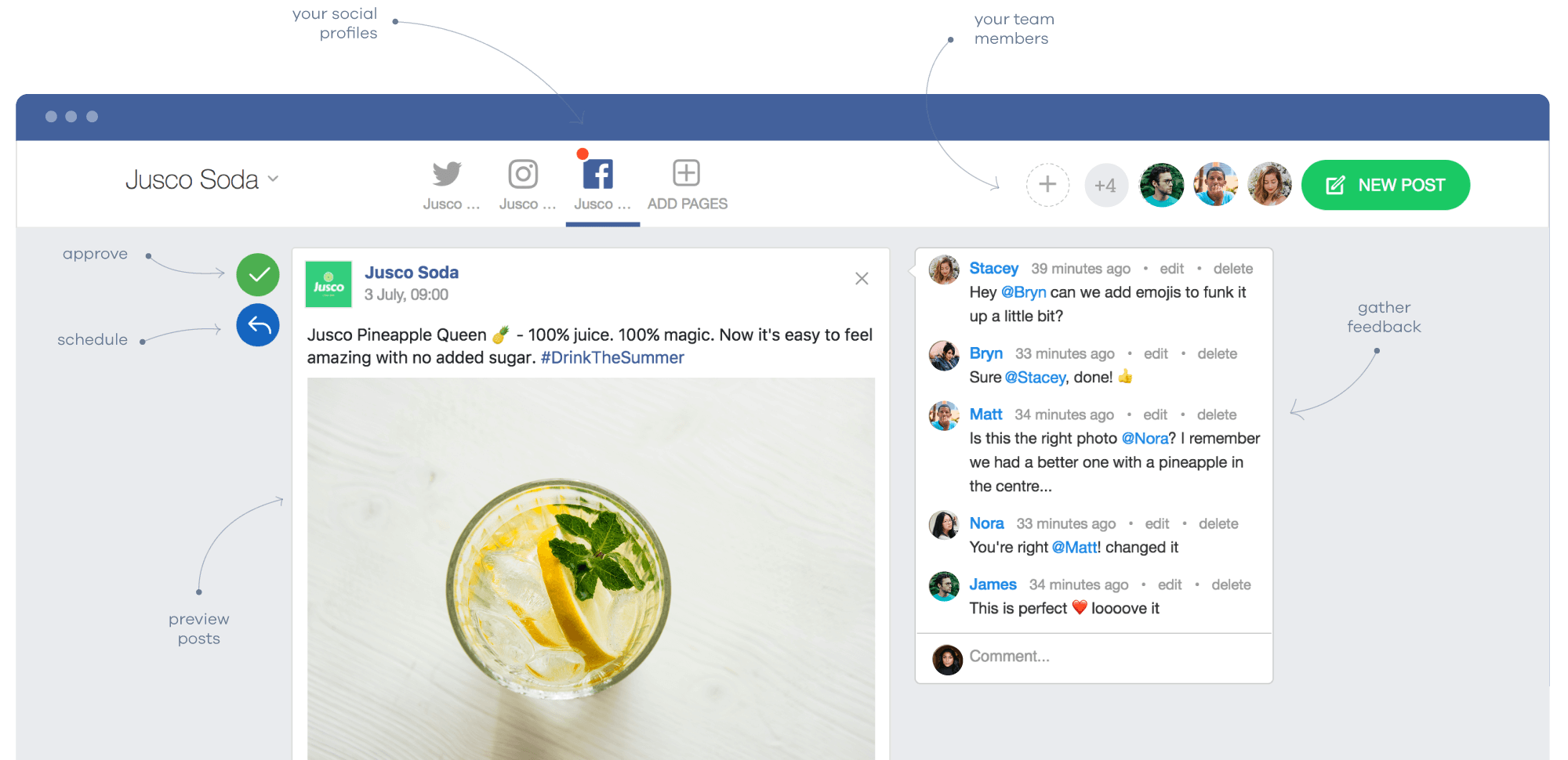 Features:
Centralized Social Media Content Management
Help Planning and Scheduling
Immediate Feedback
Social Media Post Preview
Faster Approval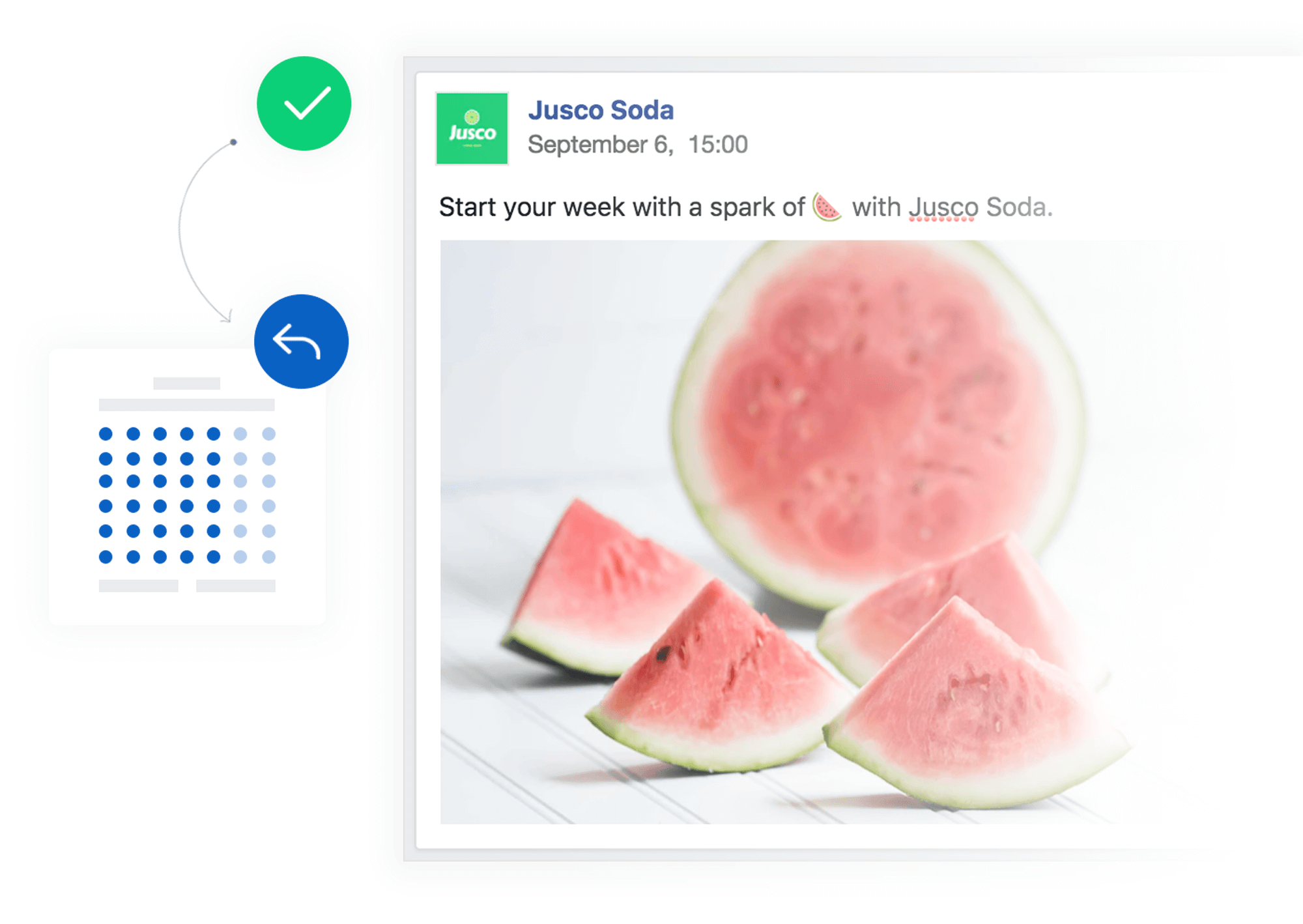 Pricing:
Free plan for $0 / month, unlimited workspaces, unlimited users, first 50 posts
Starter for $39 / month, one workspace, three users, self-service, unlimited posts
Premium for$99 / month, five workspaces, seven users, self-service, unlimited posts
Enterprise is available for customization
Agorapulse
Agorapulse is a tool for managing social marketing that allows organizations, businesses, and advertisers to control all of their posts in the social media, plan and post content, recognize leading influencers, monitor social networks, and report on a single dashboard. Agorapulse supports Facebook, Twitter, Instagram, LinkedIn, and YouTube now and one of the most reliable tools for social media marketing.
Agorapulse also offers five free tools for social media managers to ease the marketing process: Facebook Ads Report, Easy Advocacy, Twitter Report Card, Facebook Barometer, and Facebook Timeline Contest.
Features:
Social Media Monitoring
Social Measurement
Influencer Identification
Social Reporting
Social Listening
Social Management
Social Analytics
Social Sharing
Social media advertising campaigns
Social Engagement
Reports & Dashboards
Content marketing and engagement analysis
Influencer Identification
Report customization
Report exporting
Pricing:
Free 28 Day Trial
Medium $79/ month, billed annually.
Large for $159/ month, billed annually
X-Large for $239/ month, billed annually.
Enterprise for 399/ month, billed annually.
Gainapp
You have to do all of the jobs manually when you deal with a social media ad strategy directly. Gainapp makes the publishing of content on social media and the digital platform easy. The software is suitable for marketer company, social media managers, and anyone working in teams to streamline and automate the post scheduling process.
Features:
Content clearance for any device.
Discussions on content. History of information. The tags for information
Export to PDF. Export to CSV.
Internal permissions administration. Customer permissions service
Schedule and views for 30 days. Rounds of sponsorship unrestricted
Pricing:
Free Trial
Base Plan for $99 / month, includes the first ten users. Additional user cost $10 each.
Promo.com
Social media marketing agencies can use Promo.com to create video ads, social media videos, product videos, explainer videos and more advertising videos to boost your digital presence. The platform is all you need to make high-performing and scroll-stopping videos to promote your business on digital platforms.
Features:
Platform Basics
Slide Design
Presenter Tools
AutoSave
Platform Content
Charts
Template Library
Template Creator
File Sharing
Platform Additional Functionality
Pricing:
Free Trial
ANNUAL BASIC for $39/ month or $468 / Billed annually
ANNUAL STANDARD for $69/ month or $828 / Billed annually
ANNUAL PRO for $249/ month or $2988 / Billed annually
Conclusion:
To make social media marketing effective, media marketing agencies can use the tools mentioned above. These web applications are designed to make social media advertising cost-effective and straightforward. Organizations can quickly attract an audience using social media marketing along with their digital marketing efforts. To get the best results at a pocket-friendly price, make sure to do your research before hiring a full service digital marketing agency or a social media marketing agency to boost your digital presence.
Questions asked while looking for Social Media Agency:
Is branding and advertising through video marketing is a reasonable option?
Video production and marketing has officially taken the social media world by storm and one of the most effective way to mark your digital presence. Video marketing can be used for everything from building customer rapport on digital platforms, to promoting your brand, services or products to making a strong global presence on digital platforms.
What facilities Digital Marketing Agency deliver?
Digital marketing is an aspect of marketing that uses the internet and digital technologies to market your product and services. Digital marketing agency delivers services like social media marketing, email marketing, search engine marketing, content marketing, search engine optimization (SEO), email marketing, video production, graphic design services, social media marketing, services, public relations (PR) and much more.
How to start a social media agency?
Initially, your social media marketing agency starts with a smaller scale. So be sure to focus on a specific niche or set of niches. To get started with social media marketing, some of the targets include plastic surgeons, or foot clinics, public relations (PR), real estate agencies etc.
What is a social media marketing agency?
Some of the day-to-day activities of a social media marketing agency include creating and organizing content, video production, using graphic design to create social postings and then scheduling and publishing that content across various channels.
What are the most popular companies who use social media marketing?
Social media marketing activities are part of digital marketing companies to increase brand awareness and visibility on digital platforms. American Express, Mint, Slack, Airbnb are some of the brands that are killing with their social media marketing strategies across the globe.
Can I hire a social.media marketing agency in Washington, DC?
Yes, of course. A social media marketing agency can help you capture your brand voice and engage your audience for great results using different marketing tricks and methods. You can also hire a full service media marketing agency to get video production, paid search marketing and digital marketing services, all at an affordable cost.
How to Get the Most Out of my social media marketing Ad Budget?
Almost all social media platform offer advertising options for users. However, you should not spend money on all of social media marketing platforms. When choosing where to place your media marketing ads, it's essential helpful to know which social media marketing channels are most popular among your target audience.